Critical Review of Books in Religion 1994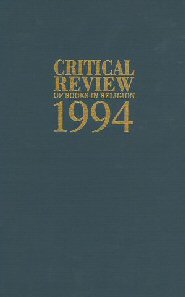 Overview
Critical Review of Books in Religion has two sections. The first section contains more extensive review articles. The second section contains shorter book reviews in several different categories. This volume has articles dealing with The New Encyclopedia of Archaeological Excavations in the Holy Land, This is the Place: The Encyclopedia of Mormonsim as a Presentation of Faith, and two articles on The Anchor Bible Dictionary.
Contributors
Eldon Jay Epp
William Scott Green
John J. Collins
James O. Duke
Leo G. Perdue
David M. Scholer
Th. Emil Homerin
Product Details
Title: Critical Review of Books in Religion 1994
Editor: Eldon Jay Epp
Publisher: Scholars Press
Publication Date: 1994
Pages: 652
About Eldon Jay Epp
Eldon Jay Epp is Harkness Professor of Biblical Literature Emeritus at Case Western Reserve University (Cleveland, Ohio), and the President of the Society of Biblical Literature (2003-2004).
Reviews
What other people are saying about Critical Review of Books in Religion 1994.