The Canopied Earth: World That Was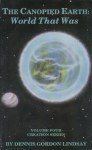 Christ For The Nations
, 1991
Overview
This volume will look into the probability that a water-vapor canopy covered the earth before the Flood. What possible mechanism did God use to cause the Flood and the collapse of the vapor canopy?
Contents
The World That Was
The Greenhouse Effect
Scientific Evidence for a Canopy
Historical Evidence for a Canopy
A World Without Rain, Wind, Snow, Seasons or Rainbows
The Planet of the Giants
Ancient Longevity
The Water Vapor Shield: Earth's "Nickel Defense"
The Ozone Shield: Earth's "Specialty Defense"
The Magnetic Shield: Earth's "Prevent Defense"
The Invasion of the Tomatoes and Fiber 0ptics
The Collapse of the Canopy
The Puzzle of the Big Birds: How Did They Fly?
A World With Greater Air Pressure
The Thunderbird and Other Recent Big Bird Sightings
How Did the "Big Boys" Breathe?
Jessica McClure: National Heroine
Miss Universe Wins Title at Age 80
Humidity, That Dirty Ol' Word
Food for the Giants: Carbon Dioxide
Recurrence of a Greenhouse Effect.
The Origins of Astrology
Noah's Drunkenness
The Canopied Millennium: Return to Paradise
Conclusion
Bibliography
Product Details
Title: The Canopied Earth: World That Was
Author: Dennis Gordon Lindsay
Publisher: Christ for the Nations
Publication Date: 1999
About Dennis Gordon Lindsay
Dennis Gordon Lindsay is president and CEO of Christ For The Nations. Founded in 1948, CFN continues to build churches (over 12,000 completed), provide free literature (over 60 million in 81 languages), and assist in relief efforts (disasters, orphanages, prisons, hospitals). It prepares and trains world changers (over 35,000 graduates) and networks with CFN Associate Bible Schools (over 40 in 35 countries) to become part of the extreme generation that will go to the edge to evangelize the lost.
Reviews
What other people are saying about The Canopied Earth: World That Was.