Why Four Gospels?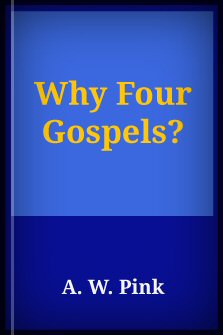 Overview
From the foreword: "We are fully assured that there is very much in the four Gospels which manifest the Divine perfections and distinctive beauties of each one, which has not yet been brought forth by those who have sought to explore their inexhaustible depths; that there is here a wide field for diligent research, and that those who will pursue this study, prayerfully, for themselves, will be richly rewarded for their pains."
Product Details
Title: Why Four Gospels?
Author: A. W. Pink
Publisher: Logos Research Systems
Publication Date: 1921
Reviews
What other people are saying about Why Four Gospels?.