Selected Sermons of George Whitefield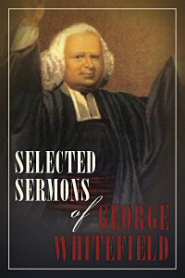 Overview
George Whitefield, a friend of both John Wesley and Benjamin Franklin, is considered to be one of the instrumental forces in the beginning of what is known as "The Great Awakening". Whitefield, an English itinerant preacher who was passionate in his oratory, attracted some of the largest crowds of his day. Thousands would gather in fields to hear him preach as he travelled both the English countryside and the colonies, soon to become the United States of America. Selected Sermons of George Whitefield contains over 50 of Whitefield's sermons, on a variety of topics, and are still edifying to read and study today.
Product Details
Title: Selected Sermons of George Whitefield
Author: George Whitefield
Publisher: Logos Research Systems
Publication Date: 1999
Reviews
What other people are saying about Selected Sermons of George Whitefield.