The Soul of Prayer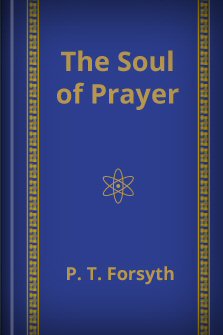 Overview
It is difficult and even formidable thing to write on prayer, and one fears to touch the Ark. Perhaps no one ought to undertake it unless he has spent more toil in the practice of prayer than on its principle. But perhaps also the effort to look into its principle may be graciously regarded by Him who ever liveth to make intercession as itself a prayer to know better how to pray. All progress in prayer is an answer to prayer—our own or another's. And all true prayer promotes its own progress and increases our power to pray.
Product Details
Title: The Soul of Prayer
Author: Peter Taylor Forsyth
Publisher: Eerdmans
Publication Date: 1916
Reviews
What other people are saying about The Soul of Prayer.