Collected Writings of W.E. Vine (5 vols.)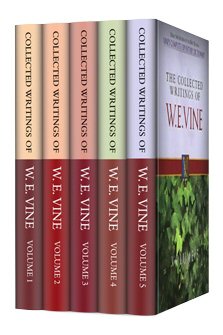 Overview
Vine is known as a classical scholar, a skilled expositor, and an acute theologian. This landmark five-volume edition includes all of Vine's known commentaries and writings on biblical studies and theology. Some of the topics covered are: The Scriptures and How to Use Them, The Divine Inspiration of the Bible, The Person and the Work of Christ, The Church, and The Second Coming and the Last Days; and commentaries on Isaiah, John, Romans, 1 Corinthians, Galatians, Philippians, Colossians, 1,2 Thessalonians, 1,2 Timothy, Titus, Hebrews, 1,2,3 John, and James. F. F. Bruce says: "Mr. Vine shows how great a service can be rendered to the Church by well-balanced, all-round scholarship when it is combined with reverent submission to the Word of God and spiritual insight into its meaning."
This product will download as one single resource.
Product Details
Title: Collected Writings of W. E. Vine
Author: W. E. Vine
Publisher: Thomas Nelson
Publication Date: 1997
Volumes: 5 (in one resource)
Pages: 2,137
Reviews
What other people are saying about Collected Writings of W.E. Vine (5 vols.).