Nelson's Topical Bible Index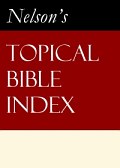 Overview
Offers pastors, Bible scholars, and laypeople ready-to-use information and quick answers to Bible questions. It organizes key Scripture references with context summaries under 8,000 topics and sub-topics, including names, places, things, concepts, events and doctrines. Includes brief definitions that are useful for personal study or lesson preparation.
Product Details
Title: Nelson's Topical Bible Index
Author: Thomas Nelson Publishers
Publisher: Thomas Nelson Publishers
Publication Date: 1995
Reviews
What other people are saying about Nelson's Topical Bible Index.