Answering the Call to Evangelism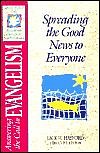 Overview
Catch the fire that spread God's word throughout the known world in the early days of the church. This guide leads you, strengthens you and excites you with a new energy to spread the good news.
Product Details
Title: Experiencing God's Faithfulness in Judgment and Hope
Authors: Jack W. Hayford, Gary Curtis, Robert W. Anderson, Ray Beeson, Gary Howse, Bob Marshall, Phil Starr
Publisher: Thomas Nelson
Publication Date: 1997
Reviews
What other people are saying about Answering the Call to Evangelism.