Kingdom Living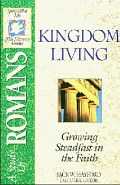 Overview
Romans is a gold mine rich with insight and revelation on some of the most basic faith-building truths. Learn how to take your place in the Kingdom: to walk in the spirit, to trust God amid suffering, and to livie in the power of Christ's resurrection.
Product Details
Title: Kingdom Living
Author: Jack W. Hayford, William D. Watkins
Publisher: Thomas Nelson
Publication Date: 1997
Reviews
What other people are saying about Kingdom Living.