Power Faith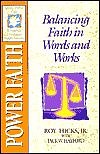 Overview
Scripture teaches us how to balance faith in words and works for a powerful Christian walk. This study offers a dynamic and balanced approach to understanding the power of biblical faith.
Product Details
Title: Power Faith
Authors: Roy Hicks and Jack W. Hayford
Publisher: Thomas Nelson
Publication Date: 1994
Reviews
What other people are saying about Power Faith.