Word Biblical Commentary, Volume 51: 1, 2, 3 John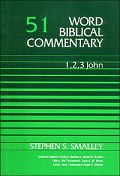 Overview
Stephen Smalley's exhaustive commentary on the Greek text of the letters of John argues that these epistles, together with the fourth Gospel, record and reflect the spiritual history of the Johannine community itself. These letters contain theological, ethical and practical truths that are fundamental to the Christian position in every age: that Jesus is one with God as well as one with us; that love and righteousness are indispensable to the believer who seeks as a child of God to walk in the light; and that unity, however flexible, is a demand laid upon the whole Church at all times.
The Word Biblical Commentary delivers the best in biblical scholarship, from the leading scholars of our day who share a commitment to Scripture as divine revelation. This series emphasizes a thorough analysis of textual, linguistic, structural, and theological evidence. The result is judicious and balanced insight into the meanings of the text in the framework of biblical theology. These widely acclaimed commentaries serve as exceptional resources for the professional theologian and instructor, the seminary or university student, the working minister, and everyone concerned with building theological understanding from a solid base of biblical scholarship.
Product Details
Title: Word Biblical Commentary, 1, 2, 3 John
Author: Stephen S. Smalley
Editor: Ralph P. Martin
Series: Word Biblical Commentary
Publisher: Thomas Nelson
Publication Date: 2009
Pages: 350
About Stephen S. Smalley
Stephen S. Smalley is a New Testament scholar and author. He was formerly chaplain and dean of Peterhouse, Cambridge and vice-provost of Coventry Cathedral. He is dean emeritus of Chester Cathedral. Smalley has also taught at the universities of Ibadan and Manchester. He is the author of The Revelation to John: A Commentary on the Greek Text of the Apocalypse.
Reviews
What other people are saying about Word Biblical Commentary, Volume 51: 1, 2, 3 John.