Word Biblical Commentary, Volume 13: 2 Kings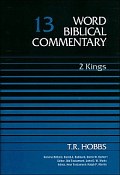 Overview
Experience the tragic drama of 2 Kings as you follow the long descent of Israel and Judah to the destruction of Jerusalem and Babylonian exile. T.R. Hobbs argues that 2 Kings was intended to review the past, but also to point to the promised return to the Promised Land. He examines the historical context, textual witnesses, theological themes, and literary techniques of the author of 2 Kings. Hobbs outlines the implications of the prophetic witness in post-monarchy Judah, and examines the source materials for this dramatic historical book. Organized for easy reference, Word Biblical commentaries make an ideal Bible study companion whether you are studying a single passage or a complete biblical book.
The Word Biblical Commentary delivers the best in biblical scholarship, from the leading scholars of our day who share a commitment to Scripture as divine revelation. This series emphasizes a thorough analysis of textual, linguistic, structural, and theological evidence. The result is judicious and balanced insight into the meanings of the text in the framework of biblical theology. These widely acclaimed commentaries serve as exceptional resources for the professional theologian and instructor, the seminary or university student, the working minister, and everyone concerned with building theological understanding from a solid base of biblical scholarship.
Product Details
Title: Word Biblical Commentary, Volume 13: 2 Kings
Author: T.R. Hobbs
Editor: John D.W. Watts
Series: Word Biblical Commentary
Publisher: Thomas Nelson
Publication Date: 1986
Pages: 387
About T. R. Hobbs
T. R. Hobbs is professor of Hebrew and Old Testament interpretation at McMaster Divinity College, Hamilton, Ontario. He is the author of A Time for War: A Study of Warfare in the Old Testament.
Reviews
What other people are saying about Word Biblical Commentary, Volume 13: 2 Kings.