Word Biblical Commentary, Volume 28: Ezekiel 1–19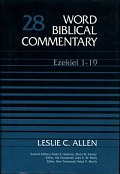 Overview
Delve deep into the language, structure, and background of the mysterious prophecies of Ezekiel. Allen's mastery of Hebrew provides a fresh translation and is accompanied by notes interpreting the significance of textual variants. Focusing on the meaning of the text, Allen illuminates the historical setting of the book and explains the role of the prophet with clarity and precision.
The Word Biblical Commentary delivers the best in biblical scholarship, from the leading scholars of our day who share a commitment to Scripture as divine revelation. This series emphasizes a thorough analysis of textual, linguistic, structural, and theological evidence. The result is judicious and balanced insight into the meanings of the text in the framework of biblical theology. These widely acclaimed commentaries serve as exceptional resources for the professional theologian and instructor, the seminary or university student, the working minister, and everyone concerned with building theological understanding from a solid base of biblical scholarship.
Product Details
Title: Word Biblical Commentary, Volume 28: Ezekiel 1–19
Author: Leslie C. Allen
Editor: John D.W. Watts
Series: Word Biblical Commentary
Publisher: Thomas Nelson
Publication Date: 1994
Pages: 348
About Leslie C. Allen
Reviews
What other people are saying about Word Biblical Commentary, Volume 28: Ezekiel 1–19.