Word Biblical Commentary, Volume 25: Isaiah 34–66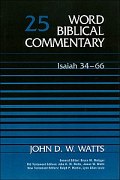 Overview
Study the epic story of the prophet Isaiah and his dealings with Israel and other nations with John Watts. From the opening covenantal indictment to the messianic proclamations in chapters 55–66, Watts explores the complex historical background, textual difficulties, interpretive issues, and source theories for the book Isaiah. One of the most detailed commentaries ever produced on Isaiah, Watts' work is a standard text for students of Isaiah.
The Word Biblical Commentary delivers the best in biblical scholarship, from the leading scholars of our day who share a commitment to Scripture as divine revelation. This series emphasizes a thorough analysis of textual, linguistic, structural, and theological evidence. The result is judicious and balanced insight into the meanings of the text in the framework of biblical theology. These widely acclaimed commentaries serve as exceptional resources for the professional theologian and instructor, the seminary or university student, the working minister, and everyone concerned with building theological understanding from a solid base of biblical scholarship.
Product Details
Title: Word Biblical Commentary, Volume 25: Isaiah 34–66
Author: John D.W. Watts
Editor: John D.W. Watts
Series: Word Biblical Commentary
Publisher: Thomas Nelson
Publication Date: 1998
Pages: 624
About John D. W. Watts
John D.W. Watts was president and professor of Old Testament at the Baptist Theological Seminary, Ruschlikon, Switzerland. He also served as professor of Old Testament at Fuller Theological Seminary and the Southern Baptist Theological Seminary in Louisville, Kentucky. He is the author of Studying the Book of Amos, Obadiah: A Critical Exegetical Commentary, and The Books of Joel, Obadiah, Jonah, Nahum, Habakkuk and Zephaniah.
Reviews
What other people are saying about Word Biblical Commentary, Volume 25: Isaiah 34–66.