Word Biblical Commentary, Volume 19: Psalms 1–50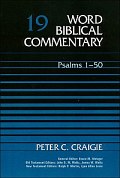 Overview
Peter Craigie demonstrates that the biblical psalms express "the most profound of human feelings and insights—prayer, praise, liturgy, wisdom and lament." Through careful analysis of language, form, and historical setting, he communicates both the emotional and theological impact of the psalms as originally experienced by the people of Israel at public worship and in private devotions. Professor Craigie's translations and interpretations of the first 50 Psalms provide insights into the Hebrew language and how Israel's literature draws from Ugaritic texts. He provides a careful and critical analysis of various scholarly proposals and their implications for modern interpretation of the Psalter.
The Word Biblical Commentary delivers the best in biblical scholarship, from the leading scholars of our day who share a commitment to Scripture as divine revelation. This series emphasizes a thorough analysis of textual, linguistic, structural, and theological evidence. The result is judicious and balanced insight into the meanings of the text in the framework of biblical theology. These widely acclaimed commentaries serve as exceptional resources for the professional theologian and instructor, the seminary or university student, the working minister, and everyone concerned with building theological understanding from a solid base of biblical scholarship.
Product Details
Title: Word Biblical Commentary, Volume 19: Psalms 1–50
Author: Peter C. Craigie
Editor: John D.W. Watts
Series: Word Biblical Commentary
Publisher: Thomas Nelson
Publication Date: 1998
Pages: 504
Reviews
What other people are saying about Word Biblical Commentary, Volume 19: Psalms 1–50.