Word Biblical Commentary, Volume 20: Psalms 51–100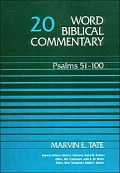 Overview
Marvin Tate's distinctive commentary traces all the biographical, historical, literary, and practical concepts of these middle psalms and demonstrates how the purpose of each one unfolds. The middle section of the Hebrew Psalter has long been regarded as an inspiring anthology of ancient religious poetry. Within this part of the Sepher Tehillim or Book of Praises, are 11 of the 12 psalms of Asaph (73–83), one of Solomon's two (72), the sole offerings of Ethan (89) and Moses (90), and four of the songs ascribed to the sons of Korah—not to mention the many attributed to David. Organized for easy reference, Word Biblical commentaries make an ideal Bible study companion whether you are studying a single passage or a complete biblical book.
The Word Biblical Commentary delivers the best in biblical scholarship, from the leading scholars of our day who share a commitment to Scripture as divine revelation. This series emphasizes a thorough analysis of textual, linguistic, structural, and theological evidence. The result is judicious and balanced insight into the meanings of the text in the framework of biblical theology. These widely acclaimed commentaries serve as exceptional resources for the professional theologian and instructor, the seminary or university student, the working minister, and everyone concerned with building theological understanding from a solid base of biblical scholarship.
Product Details
Title: Word Biblical Commentary, Volume 20: Psalms 51–100
Author: Marvin E. Tate
Editor: John D.W. Watts
Series: Word Biblical Commentary
Publisher: Thomas Nelson
Publication Date: 1991
Pages: 612
About Marvin E. Tate
Marvin E. Tate is senior professor of Old Testament interpretation at The Southern Baptist Theological Seminary in Louisville, Kentucky. He is author of From Promise to Exile: The Former Prophets.
Reviews
What other people are saying about Word Biblical Commentary, Volume 20: Psalms 51–100.