Byzantine/Majority Textform Greek New Testament (BYZ)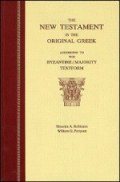 Overview
The Byzantine Majority Greek text represents the texttype reflected among the vast majority of extant manuscripts. It is from this family of Byzantine texts that the early printed Greek New Testaments ("Textus Receptus" editions) and early English versions such as the Bishop's, Geneva, Coverdale, and King James Version derive, as well as the early European versions such as that of Luther and the Dutch Staten Vertaling.
Product Details
Title: Byzantine/Majority Textform Greek 2.0
Authors: William G. Pierpont, Maurice A. Robinson
Publisher: The Original Word Publishers
Publication Date: 1995
Reviews
What other people are saying about Byzantine/Majority Textform Greek New Testament (BYZ).