A Narrative of Some of the Lord's Dealings with George Müller, Vol. 1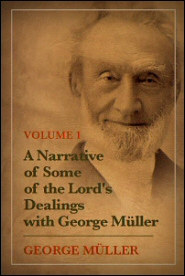 Overview
In his 4-volume autobiography, A Narrative of Some of the Lord's Dealings with George Müller, Müller narrates the story of his life. He kept a careful record of his life—his thoughts, travels, inspirations—which together amount to a revealing look at both the minutia of the day-to-day events of his life, as well as a chronology of his spiritual journey. Volume 1, in particular, captures the latter particularly well. In it, Müller recounts the memories of his childhood—his vices, addictions, and rebellions. He also tells the story of his conversion. This volume covers the events in Müller's life from his birth in 1805 through the end of 1844.
Key Features
Autobiography following physical and spiritual life
All Scripture references linked to the Bibles in your library
Praise for the Print Edition
George Müller's life was one long witness to the prayer-hearing God; and, throughout, God bore him witness that his prayers were heard and his work accepted. The pages of his journal are full of striking examples of this witness. . . .
—Arthur T. Pierson
Product Details
Title: A Narrative of Some of the Lord's Dealings with George Müller, Vol. 1
Author: George Müller
Publisher: London: J. Nisbet & Co.
Publication Date: 1881
Pages: 604
About George Müller
George Müller (1805–1898), pastor and philanthropist, spent many decades dedicated to pastoral and evangelical ministry. Müller pastored Ebenezer Chapel in Devon, England—as well as founded the Scriptural Knowledge Institution for Home and Abroad.
Together with his wife, Müller built and operated five orphanages that cared for several thousands of orphans annually. Relying solely on unsolicited funds, he distributed vast quantities of Bibles and other historic texts—as well as supported many overseas missionaries.
Starting in 1875, George Müller spent nearly two decades in missions throughout Europe, North America, New Zealand, and India. His adept language proficiency allowed him to preach without aid in English, French, and German. In addition to his missionary travels, Müller received hundreds of invitations to speak—which he was unable to accept.
Reviews
What other people are saying about A Narrative of Some of the Lord's Dealings with George Müller, Vol. 1.