Announcements of Plot in Genesis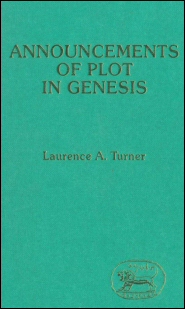 Sheffield Academic Press
, 1990
Overview
The four narrative blocks which comprise Genesis are prefaced by statements—or "Announcements"—which suggest ways in which the ensuing stories are likely to develop. The author concludes that the announcements influence their narratives in many different ways and that they are misleading indicators of how plots will develop. Genesis is more concerned to present the ironies of human motive and divine providence than to recount the working out of any pre-ordained plan on God's part. This original and refreshing monograph, written in a vigorous style, is certain to alter the way readers remember the Genesis stories.
Key Features
Landmark scholarship on the book of Genesis
All Scripture references are linked to the original language texts and English Bibles in your library
Textual, linguistic, interpretive, and historical approach to studying Genesis
Product Details
Title: Announcements of Plot in Genesis
Author: Laurence A. Turner
Publisher: Sheffield Academic Press
Publication Date: 2009
Pages: 210
About Laurence A. Turner
Laurence A. Turner is Senior Lecturer in Old Testament and Head of the Department of Theological Studies, Newbold College, Bracknell, Berkshire, UK.
Sample Pages from the Print Edition
Reviews
What other people are saying about Announcements of Plot in Genesis.