Semeia 38: Apocryphal Acts of Apostles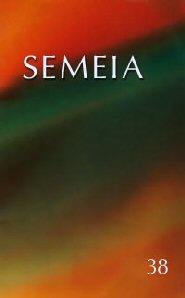 Society of Biblical Literature
, 1986
Overview
Semeia is an experimental journal devoted to the exploration of new and emergent areas and methods of biblical criticism. Studies employing the methods, models, and findings of linguistics, folklore studies, contemporary literary criticism, structuralism, social anthropology, and other such disciplines and approaches, are invited. Although experimental in both form and content, Semeia proposes to publish work that reflects a well defined methodology that is appropriate to the material being interpreted.
Key Features
Key perspectives on biblical criticism
Includes bibliographies and index
Contributors
François Bovon
Virginia Burrus
David R. Cartlidge
Steven L. Davies
Arthur J. Dewey
Eric Junod
Jean-Danil Kaestli
Dennis R. MacDonald
Thomas W. Mackay
Jean-Marc Prieur
Willy Rordorf
Andrew D. Scrimgeour
Robert F. Stoops, Jr.
H. W. Tajra
Product Details
Title: Semeia 38: Apocryphal Acts of Apostles
Editor: Dennis R. MacDonald
Publisher: Society of Biblical Literature
Publication Date: 1986
Pages: 181
About Dennis R. MacDonald
Dennis R. MacDonald is John Wesley Professor of New Testament and Christian Origins at Claremont School of Theology and co-director of the Institute for Antiquity and Christianity at the Claremont Graduate University. He is the author of Christianizing Homer and The Legend and the Apostle.
Reviews
What other people are saying about Semeia 38: Apocryphal Acts of Apostles.