Semeia 42: Reasoning with the Foxes: Female Wit in a World of Male Power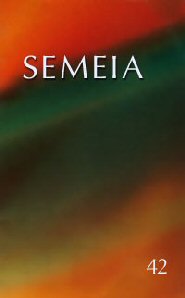 Society of Biblical Literature
, 1988
Overview
Semeia is an experimental journal devoted to the exploration of new and emergent areas and methods of biblical criticism. Studies employing the methods, models, and findings of linguistics, folklore studies, contemporary literary criticism, structuralism, social anthropology, and other such disciplines and approaches, are invited. Although experimental in both form and content, Semeia proposes to publish work that reflects a well defined methodology that is appropriate to the material being interpreted.
Key Features
Key perspectives on biblical criticism
Includes bibliographies and index
Contributors
Kathleen M. Ashley
Mieke Bal
Johanna W. H. Bos
Claudia V. Camp
J. Cheryl Exum
Carole Fontaine
Esther Fuchs
Edwin M. Good
Naomi Steinberg
Product Details
Title: Semeia 42: Reasoning with the Foxes: Female Wit in a World of Male Power
Editors: Johanna W. H. Bos and J. Cheryl Exum
Publisher: Society of Biblical Literature
Publication Date: 1988
Pages: 156
About the Editors
Johanna W. H. Bos is Dora Pierce Professor of Bible and Professor of Old Testament at Louisville Presbyterian Theological Seminary in Louisville, Kentucky. An ordained minister in the Presbyterian Church, she is also the author of Reformed and Feminist: A Challenge to the Church and Reimagining God: The Case for Scriptural Diversity.
J. Cheryl Exum is Professor of Biblical Studies at the University of Sheffield. The author of numerous scholarly works on the Hebrew Bible, her books include Tragedy and Biblical Narrative, Fragmented Women: Feminist (Sub)versions of Biblical Narratives, and Plotted, Shot, and Painted: Cultural Representations of Biblical Women. She is Executive Editor of Biblical Interpretation and a Director of Sheffield Phoenix Press.
Reviews
What other people are saying about Semeia 42: Reasoning with the Foxes: Female Wit in a World of Male Power.