Semeia 47: Interpretation for Liberation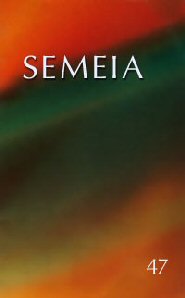 Society of Biblical Literature
, 1989
Overview
Semeia is an experimental journal devoted to the exploration of new and emergent areas and methods of biblical criticism. Studies employing the methods, models, and findings of linguistics, folklore studies, contemporary literary criticism, structuralism, social anthropology, and other such disciplines and approaches, are invited. Although experimental in both form and content, Semeia proposes to publish work that reflects a well defined methodology that is appropriate to the material being interpreted.
Key Features
Key perspectives on biblical criticism
Includes bibliographies and index
Contributors
Sheila Briggs
Katie Geneva Cannon
Cheryl Townsend Gilkes
Kwok Pui Lan
Clarice J. Martin
Elisabeth Schüssler Fiorenza
Renita J. Weems
Vincent L. Wimbush
Product Details
Title: Semeia 47: Interpretation for Liberation
Editors: Katie Geneva Cannon and Elisabeth Schussler Fiorenza
Publisher: Society of Biblical Literature
Publication Date: 1989
Pages: 153
About the Editors
Katie Geneva Cannon is Annie Scales Rogers Professor of Christian Ethics at Union Theological Seminary and Presbyterian School of Christian Education in Richmond, Virginia. She is the author of Katie's Canon: Womanism and the Soul of the Black Community.
Elisabeth Schussler Fiorenza is Krister Stendahl Professor of Divinity at Harvard Divinity School in Cambridge, Massachusetts. She is the author of numerous books, including In Memory of Her.
Reviews
What other people are saying about Semeia 47: Interpretation for Liberation.