Semeia 61: Women, War, and Metaphor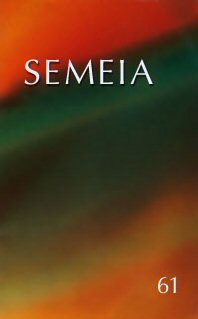 Society of Biblical Literature
, 1993
Overview
Semeia is an experimental journal devoted to the exploration of new and emergent areas and methods of biblical criticism. Studies employing the methods, models, and findings of linguistics, folklore studies, contemporary literary criticism, structuralism, social anthropology, and other such disciplines and approaches, are invited. Although experimental in both form and content, Semeia proposes to publish work that reflects a well defined methodology that is appropriate to the material being interpreted.
Key Features
Key perspectives on biblical criticism
Includes bibliographies and index
Contributors
Mieke Bal
Marc Brettler
Claudia V. Camp
Suzette Haden Elgin
Carole R. Fontaine
Mary Gerhart
J. P. Healey
Alice Keefe
Francis Landy
Susan Niditch
A. M. Russell
Susan Brooks Thistlethwaite
Gale A. Yee
Product Details
Title: Semeia 61: Women, War, and Metaphor
Editors: Claudia Camp and Carole Fontaine
Publisher: Society of Biblical Literature
Publication Date: 1993
Pages: 237
About the Editors
Claudia Camp is Professor of Religion at Texas Christian University and was on the steering committee of the Seminar.
Carole Fontaine is Professor of Hebrew Scriptures, Andover Newton Theological School, Newton Centre, Massachusetts.
Reviews
What other people are saying about Semeia 61: Women, War, and Metaphor.