Semeia 63: Characterization in Biblical Literature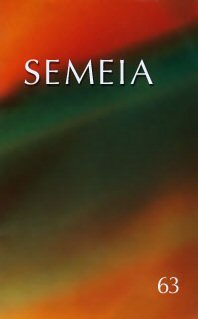 Society of Biblical Literature
, 1993
Overview
Semeia is an experimental journal devoted to the exploration of new and emergent areas and methods of biblical criticism. Studies employing the methods, models, and findings of linguistics, folklore studies, contemporary literary criticism, structuralism, social anthropology, and other such disciplines and approaches, are invited. Although experimental in both form and content, Semeia proposes to publish work that reflects a well defined methodology that is appropriate to the material being interpreted.
Key Features
Key perspectives on biblical criticism
Includes bibliographies and index
Contributors
Alice Bach
David R. Beck
Adele Berlin
Fred W. Burnett
Kenneth M. Craig, Jr.
John A. Darr
Laura Donaldson
Robert M. Fowler
Elizabeth Struthers Malbon
David McCracken
Robert Polzin
Ilona N. Rashkow
Adele Reinhartz
Evelyn R. Thibeaux
Marianne Meye Thompson
Product Details
Title: Semeia 63: Characterization in Biblical Literature
Editors: Adele Berlin and Elizabeth Struthers Malbon
Publisher: Society of Biblical Literature
Publication Date: 1993
Pages: 227
About the Editors
Adele Berlin is Robert H. Smith Professor of Biblical Studies at the University of Maryland. She is the author of Biblical Poetry through Medieval Jewish Eyes.
Elizabeth Struthers Malbon is professor in and director of the Religious Studies Program within the Center for Interdisciplinary Studies at Virginia Polytechnic Institute and State University. She is also the author of Narrative Space and Mythic Meaning in Mark
Reviews
What other people are saying about Semeia 63: Characterization in Biblical Literature.