Semeia 67: Transformations, Passages, and Processes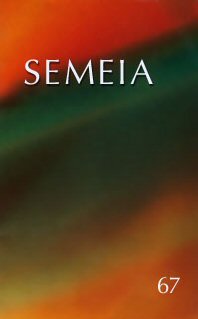 Society of Biblical Literature
, 1995
Overview
Semeia is an experimental journal devoted to the exploration of new and emergent areas and methods of biblical criticism. Studies employing the methods, models, and findings of linguistics, folklore studies, contemporary literary criticism, structuralism, social anthropology, and other such disciplines and approaches, are invited. Although experimental in both form and content, Semeia proposes to publish work that reflects a well defined methodology that is appropriate to the material being interpreted.
Key Features
Key perspectives on biblical criticism
Includes bibliographies and index
Contributors
Bobby C. Alexander
Don C. Benjamin
Dianne Bergant
Jorunn Jacobsen Buckley
Philip F. Esler
Frank H. Gorman, Jr.
K.C. Hanson
Carol Schersten LaHurd
Björn Krondorfer
Paula M. McNutt
Mark McVann
John J. Pilch
James G. Williams
Product Details
Title: Semeia 67: Transformations, Passages, and Processes
Editors: Mark McVann and Bruce Malina
Publisher: Society of Biblical Literature
Publication Date: 1995
Pages: 232
About Bruce Malina
Bruce Malina is Professor, Department of Theology, Creighton University, and author of many books, including Christian Origins and Cultural Anthropology: Practice Models for Biblical Interpretation and Windows on the World of Jesus: Time Travel to Ancient Judea.
Reviews
What other people are saying about Semeia 67: Transformations, Passages, and Processes.