Semeia 69-70: Intertextuality and the Bible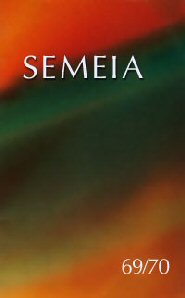 Society of Biblical Literature
, 1996
Overview
Semeia is an experimental journal devoted to the exploration of new and emergent areas and methods of biblical criticism. Studies employing the methods, models, and findings of linguistics, folklore studies, contemporary literary criticism, structuralism, social anthropology, and other such disciplines and approaches, are invited. Although experimental in both form and content, Semeia proposes to publish work that reflects a well defined methodology that is appropriate to the material being interpreted.
Key Features
Key perspectives on biblical criticism
Includes bibliographies and index
Contributors
George Aichele
Timothy Beal
Roland Boer
Daniel Boyarin
Robert L. Brawley
Jean Calloud
Laura E. Donaldson
William Doty
Susan Lochrie Graham
Tod Linafelt
Peter D. Miscall
Gary A. Phillips
Tina Pippin
James W. Voelz
Nicole Wilkinson
Product Details
Title: Semeia 69-70: Intertextuality and the Bible
Editors: George Aichele, Jr. and Gary Phillips
Publisher: Society of Biblical Literature
Publication Date: 1996
Pages: 305
About George Aichele, Jr.
George Aichele, Jr. is a member of the Bible and Culture Collective, the collaborative author of The Postmodern Bible. He is also the author of Sign Text Scripture and The Control of Biblical Meaning and co-editor with Walsh of Screening Scripture.
Reviews
What other people are saying about Semeia 69-70: Intertextuality and the Bible.