Semeia 72: Taking It Personally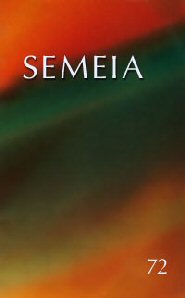 Society of Biblical Literature
, 1997
Overview
Semeia is an experimental journal devoted to the exploration of new and emergent areas and methods of biblical criticism. Studies employing the methods, models, and findings of linguistics, folklore studies, contemporary literary criticism, structuralism, social anthropology, and other such disciplines and approaches, are invited. Although experimental in both form and content, Semeia proposes to publish work that reflects a well defined methodology that is appropriate to the material being interpreted.
Key Features
Key perspectives on biblical criticism
Includes bibliographies and index
Contributors
Janice Capel Anderson
Valerie Bridgeman Davis
Robert M. Fowler
Donald A. Hagner
Obery M. Hendricks
Susan Henking
Robert Maldonado
Stephen D. Moore
Julia M. O'Brien
Mikeal C. Parsons
Tina Pippin
Richard L. Rohrbaugh
Jeffrey L. Staley
Product Details
Title: Semeia 72: Taking It Personally
Editors: Janice Capel Anderson and Jeffrey L. Staley
Publisher: Society of Biblical Literature
Publication Date: 1997
Pages: 258
About the Editors
Janice Capel Anderson is Professor of Philosophy and Religious Studies at the University of Idaho, Moscow.
Jeffrey L. Staley has published widely in New Testament studies, including Reading with a Passion: Rhetoric, Autobiography, and the American West in the Gospel of John. He is a member of the faculty at Seattle University.
Reviews
What other people are saying about Semeia 72: Taking It Personally.