Semeia 74: Biblical Glamour and Hollywood Glitz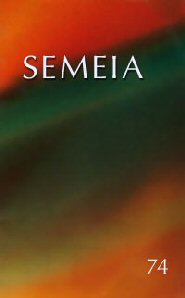 Society of Biblical Literature
, 1997
Overview
Semeia is an experimental journal devoted to the exploration of new and emergent areas and methods of biblical criticism. Studies employing the methods, models, and findings of linguistics, folklore studies, contemporary literary criticism, structuralism, social anthropology, and other such disciplines and approaches, are invited. Although experimental in both form and content, Semeia proposes to publish work that reflects a well defined methodology that is appropriate to the material being interpreted.
Key Features
Key perspectives on biblical criticism
Includes bibliographies and index
Contributors
Alice Bach
J. Cheryl Exum
Jennifer Glancy
David M. Gunn
Jennifer L. Koosed
Tod Linafelt
Kathleen S. Nash
Ilana Pardes
Victoria Rue
Jane Schaberg
Judith Weisenfeld
Product Details
Title: Semeia 74: Biblical Glamour and Hollywood Glitz
Editor: Alice Bach
Publisher: Society of Biblical Literature
Publication Date: 1997
Pages: 218
About Alice Bach
Alice Bach is Assistant Professor of Religious Studies at Stanford University and the editor of Biblicon, a journal of Bible, media, and culture. She is the author of Women, Seduction, and Betrayal in Biblical Narrative.
Reviews
What other people are saying about Semeia 74: Biblical Glamour and Hollywood Glitz.