Semeia 75: Postcolonialism and Scriptural Reading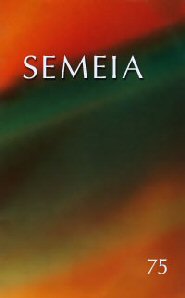 Society of Biblical Literature
, 1998
Overview
Semeia is an experimental journal devoted to the exploration of new and emergent areas and methods of biblical criticism. Studies employing the methods, models, and findings of linguistics, folklore studies, contemporary literary criticism, structuralism, social anthropology, and other such disciplines and approaches, are invited. Although experimental in both form and content, Semeia proposes to publish work that reflects a well defined methodology that is appropriate to the material being interpreted.
Key Features
Key perspectives on biblical criticism
Includes bibliographies and index
Contributors
Hector Avalos
Jon L. Berquist
Roland Boer
Mark G. Brett
Kimberly Rae Connor
Laura E. Donaldson
Musa W. Dube
Susan VanZanten Gallagher
Jim Perkinson
Miriam Peskowitz
Kwok Pui-lan
Elsa Tamez
Robert Allen Warrior
Jace Weaver
Product Details
Title: Semeia 75: Postcolonialism and Scriptural Reading
Editor: Laura E. Donaldson
Publisher: Society of Biblical Literature
Publication Date: 1998
Pages: 240
About Laura E. Donaldson
Laura E. Donaldson is Associate Professor of English and American Indian Studies at Cornell University and author of Decolonizing Feminisms: Race, Gender, and Empire-Building
Reviews
What other people are saying about Semeia 75: Postcolonialism and Scriptural Reading.