Semeia 90-91: The Bible in Asian America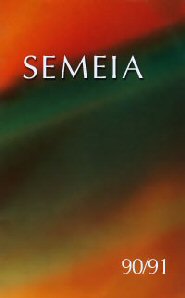 Society of Biblical Literature
, 2002
Overview
Semeia is an experimental journal devoted to the exploration of new and emergent areas and methods of biblical criticism. Studies employing the methods, models, and findings of linguistics, folklore studies, contemporary literary criticism, structuralism, social anthropology, and other such disciplines and approaches, are invited. Although experimental in both form and content, Semeia proposes to publish work that reflects a well defined methodology that is appropriate to the material being interpreted.
Key Features
Key perspectives on biblical criticism
Includes bibliographies and index
Contributors
Antony W. Alumkal
Rachel A. R. Bundang
Patrick S. Cheng
Peter Yuichi Clark
Eleazar S. Fernandez
Mary F. Foskett
Jane Naomi Iwamura
Russell M. Jeung
Eunjoo Mary Kim
Jung Ha Kim
Uriah (Yong-Hwan) Kim
Tat-siong Benny Liew
Leng Leroy Lim
Fumitaka Matsuoka
Russell G. Moy
Henry W. Rietz
Roy I. Sano
Timothy Tseng
Product Details
Title: Semeia 90-91: The Bible in Asian America
Editors: Tat-Siong Benny Liew and Gale A. Yee
Publisher: Society of Biblical Literature
Publication Date: 2002
Pages: 344
About the Editors
Tat-Siong Benny Liew is associate professor of New Testament at the Pacific School of Religion in Berkeley, California.
Gale A. Yee is Professor of Hebrew Bible and Director of Studies in Feminist Liberation Theologies at Episcopal Divinity School in Cambridge, Massachusetts. She is the author of Poor Banished Children of Eve: Women as Evil in the Hebrew Bible
Reviews
What other people are saying about Semeia 90-91: The Bible in Asian America.