Fresh Ideas for Discipleship & Nurture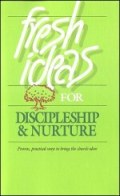 Overview
What's the connection between faith and the job? How does a church help those who have no job? How do we motivate Christians to pray, not just discuss prayer? Anyone for fasting? Will adults get serious about learning? (Yes.) How much counseling is enough? Does serving stop at age 65? (No.) What do single parents need most?
Here are hundreds of innovative solutions from churches all across the United States and Canada, gathered and arranged by the editors of LEADERSHIP and LEADERSHIP 100 into seven major sections:
Discipleship
Prayer
Education
Serving
Counseling
Fellowship
Older Adults
Product Details
Title: Fresh Ideas for Discipleship & Nurture
Editors: Dean Merrill and Marshall Shelley
Publisher: Christianity Today, Word Books
Publication Date: 1984
Reviews
What other people are saying about Fresh Ideas for Discipleship & Nurture.