Fresh Ideas for Administration & Finance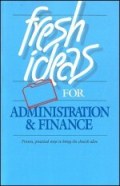 Overview
What's the fairest way to set a pastoral salary? Volunteer secretaries: how do you maximize their willingness? What's the key to shorter board meetings? Does growth always mean another building program? (No!) How does a church keep benevolences from becoming another welfare system? What are the best ways to use video? Computers? How many committees does a church really need?
Here are hundreds of innovative solutions from churches all across the United States and Canada, gathered and arranged by the editors of Leadership and Leadership 100 into eight major sections:
The Office and Staff
Boards and Committees
Facilities
Materials and Equipment
Finances
Scheduling
Communication
The Minister's Personal Life
Product Details
Title: Fresh Ideas for Administration & Finance
Editors: Marshall Shelley and Dean Merrill
Publisher: Word Books
Publication Date: 1984
Pages: 168
Reviews
What other people are saying about Fresh Ideas for Administration & Finance.