Fresh Ideas for Families, Youth & Children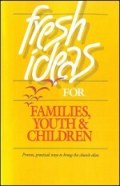 Overview
How can churches strengthen families as units, not just assist individual members? What's been effective in building strong marriages? Can you minister successfully to college students while they're away? (Yes!) How old is too old for youth leaders? (You might be surprised.) Can video games teach spiritual disciplines? How can young children be taught to minister to others?
Here are hundreds of innovative solutions from churches all across the United States and Canada, gathered and arranged by the editors of LEADERSHIP and LEADERSHIP 100 into seven major sections:
Family and Parents
Couples
Collegians
Teens
Children in School
Young Children
Across The Age Levels
Product Details
Title: Fresh Ideas for Families, Youth & Children
Editors: Dean Merrill and Marshall Shelley
Publisher: Christianity Today, Word Books
Publication Date: 1984
Reviews
What other people are saying about Fresh Ideas for Families, Youth & Children.