Changing Lives through Preaching and Worship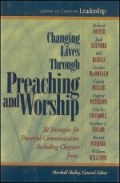 Overview
No pastor wants to go through the motions. But how can we make sure preaching and worship change lives? How do we unpack ancient truths for the MTV generation? How do we speak to construction workers as well as university professors? How can our words stir hope in those who are about to give in or give up?
Changing Lives Through Preaching and Worship, the first volume in the Library of Christian Leadership, provides skilled guidance. Its authors offer no untried theories. They write out of their practice. Their advice has been refined in the crucible of day-to-day ministry. Now, in a never-before-collected lineup, are thirty chapters of expert advice.
Product Details
Title: Changing Lives Through Preaching and Worship
Editor: Marshall Shelley
Publisher: Moorings
Publication Date: 1995
Pages: 302
Reviews
What other people are saying about Changing Lives through Preaching and Worship.