Mastering Contemporary Preaching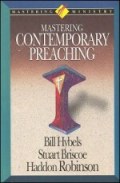 Overview
Mastering Contemporary Preaching is the first volume of a twelve-volume series called "Mastering Ministry," co-published by Leadership, Christianity Today, Inc. and Multnomah Press. This book, authored by three preachers known for their ability to communicate in today's language, focuses on the particular challenge of effective week-in-week-out preaching. These experts address:
The authority of the preacher
Speaking to the secular mind
Deciding what people need to hear today
Finding quality insights and illustrations
Balancing information and application
Dealing with today's toughest topics
and much more, including a section entitled, "Why I Keep Preaching."
Product Details
Title: Mastering Contemporary Preaching
Authors: Haddon Robinson, Bill Hybels, and Stuart Briscoe
Publisher: Multnomah Books
Publication Date: 1989
Pages: 171
Reviews
What other people are saying about Mastering Contemporary Preaching.