Preaching with Spiritual Passion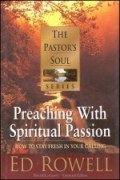 Overview
HOW DO YOU STAY FRESH WHEN SUNDAY, SEEMS TO COME EVERY OTHER DAY?
Pastors are maturing. Deepening. They want substance for their congregations—and nourishment for their own soul. THE PASTOR'S SOUL series unleashes pastors to do what really matters. To step beyond skills. To give of their unique gifts. To minister authentically and grow in the intangibles of ministry like integrity and character.
A GROUND BREAKING SERIES ON THE INNER LIFE OF PASTORS
In this changing culture, pastors need dedication to do what God wants them to do. They need fresh insight into sharing their spiritual passion.
For many pastors, the weekly challenge of sermon preparation and delivery is painful—and often the primary arena where God breaks, melts, and remolds the pastor's soul. Preaching With Spiritual Passion is a spiritual guide for God's messengers who long to understand the deep things that happen in and through them as preachers.
Product Details
Title: Preaching With Spiritual Passion
Authors: Edward K. Rowell and David L. Goetz
Publisher: Bethany
Publication Date: 1998
About the Authors
Edward K. Rowell is the editor of Proclaim, Growing Churches, and Let's Worship magazines. Before that he was associate editor of LEADERSHIP and editor of Preaching Today. He also served two churches in Arizona.
David L. Goetz is editor of LEADERSHIP Resources, a division of LEADERSHIP (a publication of Christianity Today, Inc.), the most respected journal in America for pastors and church leaders
Reviews
What other people are saying about Preaching with Spiritual Passion.