How to Really Know the Will of God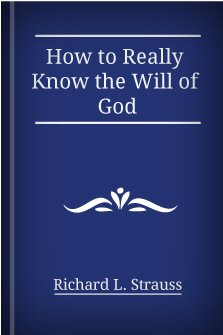 Overview
Some of the questions that are answered in this book are:
Can you make decisions according to God's plan?
Is God's plan for your life knowable? In detail?
Will His plan clash with you?
How far ahead will God reveal it to you?
Are you seeking it or him?
Does inner peace confirm that you're on the right track?
In your quest for guidance, how much can you rely on open doors and closed ones? Can you know God's will without doing it?
Finding God's will is important and this book will be helpful for anyone that desires God's will more than anything else.
Product Details
Title: How to Really Know the Will of God
Author: Richard L. Strauss
Publisher: Tyndale
Publication Date: 1979
Reviews
What other people are saying about How to Really Know the Will of God.