The Elements of Preaching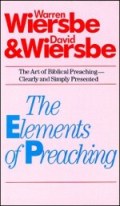 Overview
"The art of biblical preaching—clearly and simply presented." Here are the basic preaching principles as well as the main preaching prohibitions that can help you sharpen and focus your skills in the pulpit. Underlying these elements is a heartfelt understanding of the power and purpose of preaching: "A preacher must not be satisfied merely to instruct the mind; he must also stir the heart and motivate the will to apply God's truth personally," say the authors.
Logos Bible Software dramatically improves the value of this resource by enabling you to find what you're looking for with unparalleled speed and precision. Scripture passages link to your favorite translation and you can easily study it side-by-side with the other commentaries in your digital library. This makes the text more powerful and easier to access than ever before for scholarly work or personal study.
Product Details
Title: The Elements of Preaching
Author: Warren Wiersbe and David Wiersbe
Publisher: Tyndale House Publishers
Publication Date: 1986
Pages: 109
Reviews
What other people are saying about The Elements of Preaching.