Ancient Egyptian Literature, vol. 1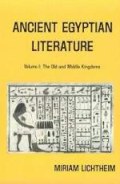 University of California Press
, 1975
Overview
Miriam Lichtheim's carefully chosen book of readings from one of the earliest literatures in the world is designed to show the evolution of that literature by selections translated and arranged in chronological order. Its appeal is to both scholars and readers with a general interest in the humanities. Altogether, Lichtheim has produced a book which admirably fulfills her desire 'to reach beyond the confines of professional specialization while at the same time making a contribution to the specialized discipline. Volume 1 outlines the early and gradual evolution of Egyptian literary genres, including biographical and historical inscriptions carved on stone, the various classes of literary works written with pen on papyrus, and the mortuary literature that focuses on life after death.
Key Features
Presents classic works on ancient Egyptian literature
Translates significant readings and arranges them in chronological order
Reviews
What other people are saying about Ancient Egyptian Literature, vol. 1.