Diagrammatical Analysis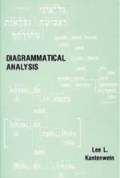 Overview
Diagrammatical Analysis is designed to facilitate the student's understanding of syntactical relationships in grammar. The parts of speech are defined and diagrammatically illustrated in English, Greek and Hebrew.
Beginning with one's spoken language, the analyst has a foundation upon which he can build his understanding of the peculiar and salient features of Greek and Hebrew syntax. Therefore, the diagrammed analysis of the original languages forms a basis for outlining the Biblical text and preaching an exegetical expository sermonic structure. The purpose is to allow the syntax to suggest the sermonic organization which the student can preach and teach with confidence and authority, rather than communicating an outline placed or forced upon a passage of scripture.
Reviews
What other people are saying about Diagrammatical Analysis.