Stephen's Textus Receptus (1550) with Morphology (STV-TR)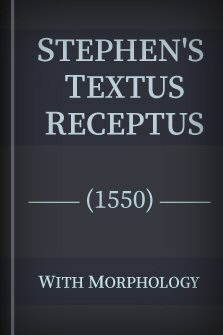 Overview
The Stephens 1550 Textus Receptus edition, with complete parsing information for all Greek words, as printed in the George Ricker Berry Interlinear Greek NT volume. Morphological analysis provided by Dr. Maurice A. Robinson.
The Textus Receptus 1550 Greek text is best known as the basis for the King James Version or Authorized Version completed in the year 1611. This is a useful text for comparison for those with proficiency in Greek.
Product Details
Title: Stephen's Textus Receptus (1550) With Morphology
Author: Stephanus, Maurice A. Robinson
Publisher: Logos Research Systems, Inc.
Publication Date: 2002
Reviews
What other people are saying about Stephen's Textus Receptus (1550) with Morphology (STV-TR).