Versão Fácil de Ler (Portuguese)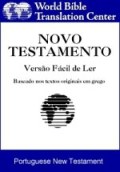 Overview
The New Testament in Portuguese.
WBTC Mission
Our mission is to provide accurate, easy-to-understand translations of God's Word in the world's major languages.
Currently we are working in 17 languages with more being added regularly. By God's grace we have released 24 New Testaments and 10 complete Bibles with more than 20 million Scripture items placed in the hands of people around the world.
Product Details
Title: Versão Fácil de Ler (Portuguese)
Publisher: WBTC
Publication Date: 1999
Reviews
What other people are saying about Versão Fácil de Ler (Portuguese).