The Gospel According to St. John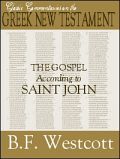 Overview
B. F. Westcott's classic commentary on the Gospel According to St. John. Contains extensive verse-by-verse exegetical commentary, as well as multiple "dissertations" on various subjects relating to the gospel.
Contents
The Authorship of the Gospel
The Composition of the Gospel
Characteristics of the Gospel
Relation to the other Apostolic Writings
The History of the Gospel
Product Details
Title: The Gospel According to St. John
Author: Brook Foss Westcott
Publisher: Logos Research Systems, Inc.
Pages: 307
About Brooke Westcott
Brooke Foss Westcott was Regius Professor of Divinity at Cambridge University, Bishop of Durham, and co-editor of the Westcott-Hort critical edition of the Greek New Testament.
Reviews
What other people are saying about The Gospel According to St. John.