The Reality of Prayer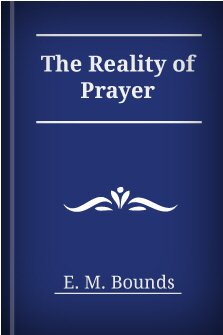 Christian Classics Ethereal Library
, 2004
Excerpt
PRAYER is God's business to which men can attend. Prayer is God's necessary business, which men only can do, and that men must do. Men who belong to God are obliged to pray. They are not obliged to grow rich, nor to make money. They are not obliged to have large success in business. These are incidental, occasional, merely nominal, as far as integrity to Heaven and loyalty to God are concerned. Material successes are immaterial to God. Men are neither better nor worse with those things or without them. They are not sources of reputation nor elements of character in the heavenly estimates. But to pray, to really pray, is the source of revenue, the basis of reputation, and the element of character in the estimation of God. Men are obliged to pray as they are obliged to be religious. Prayer is loyalty to God. Non-praying is to reject Christ and to abandon Heaven. A life of prayer is the only life which Heaven counts.
—E. M. Bounds
Product Details
Title: The Reality of Prayer
Author: Edward M. Bounds
Publisher: Logos Research Systems
Publication Date: 2004
Reviews
What other people are saying about The Reality of Prayer.