How to Meet the Enemy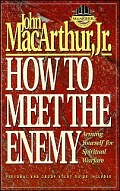 Overview
In How to Meet the Enemy John MacArthur explores the origin of spiritual warfare, its present reality, and what our response should be. He also takes a detailed look at each piece of spiritual armor-which he points out is primarily defensive, not offensive, in nature.
Product Details
Title: How to Meet the Enemy
Author: John MacArthur
Publisher: Thomas Nelson
Publication Date: 1992, 1996
Reviews
What other people are saying about How to Meet the Enemy.