Revelation: Four Views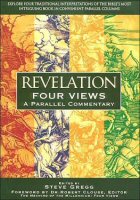 Overview
Explore the four traditional interpretations of the Book of Revelation in this in-depth, verse-by-verse overview. Revelation: Four Vews is a comprehensive, even-handed resource that offers a clear, fair presentation of four of the most important interpretations of the book, allowing you to evaluate and decide for yourself which view is most convincing. The easy-to-read layout is arranged to encourage thoughtful comparison and evaluation along with the study of the Book of Revelation itself.
Careful, unbiased summaries of the views of over fifty commentaries and commentators put you in touch with outstanding representatives of each view from throughout much of church history. Revelation: Four Views is an invaluable resource that will help anyone who wants to explore and understand the Book of Revelation.
Reviews
What other people are saying about Revelation: Four Views.