When God Whispers Your Name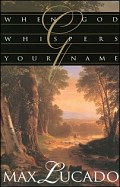 Overview
Do you find it hard to believe that the One who made everything keeps your name on His heart and on His lips? Did you realize that your name is written on the hand of God (Is. 49:16)? Perhaps you've never seen your name honored. And you can't remember when you heard it spoken with kindness. In this book, Lucado offers the inspiration to believe that God has already bought the ticket-with your name on it.
Product Details
Title: When God Whispers Your Name
Author: Max Lucado
Publisher: Multnomah Books
Publication Date: 1999
Reviews
What other people are saying about When God Whispers Your Name.