When Christ Comes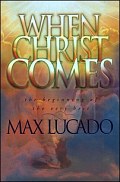 Overview
Thoughts of the Second Coming are unsettling. Open graves and occupied clouds. Sins revealed and evil unveiled. Yet, for Max Lucado, the coming of Christ will be "the beginning of the very best." In When Christ Comes, Lucado shares how Christians can live in hope, confident in his comfort and peaceful in our preparations for His return.
Product Details
Title: When Christ Comes
Author: Max Lucado
Publisher: W Publishing Group
Publication Date: 1999
Reviews
What other people are saying about When Christ Comes.