Just Like Jesus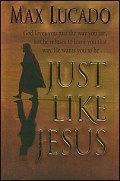 Overview
Where did we get this idea that we can't change? From whence come statements such as, "It's just my nature to worry." "I'll always be pessimistic. I'm just that way." "I can't help the way I react. I have a bad temper." Such thoughts are not from God. He can no more leave a life unchanged than a mother can leave a tear untouched. His plan for you is nothing short of a new heart. If you were a car, God would want control of your engine. If you were a computer, God would claim the software and the hard drive. If you were an airplane, He'd take His seat in the cockpit. But you are a person, so God wants to change your heart. Max Lucado tells how God loves you just the way you are, but He refuses to leave you there. He wants you to have a heart like His. He wants you to be Just Like Jesus.
Product Details
Title: Just Like Jesus
Author: Max Lucado
Publisher: Word Publishing
Publication Date: 1998
Reviews
What other people are saying about Just Like Jesus.