The So That's Why! Bible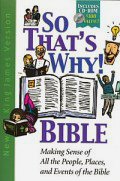 Overview
Making Sense of All the People, Places, and Events of the Bible
To really understand the Bible you need to know why things happened the way they did. That means you need to know the world in which the events took place.
Step back into biblical times with The So That's Why! Bible.
Learn how the Bible's history fits into the context of the ancient world—why things happened, what historical and spiritual principles were involved, and how the events related to each other. Everything you need is here—culture, religion, politics, geography, and much more!
Product Details
Title: The So That's Why! Bible
Author: Timothy B. Cargal, Ph.D.
Publisher: Thomas Nelson
Publication Date: 1997
Reviews
What other people are saying about The So That's Why! Bible.